Introduction
Recently a customer asked me to set up their e-mail system using G Suite. Since I already did this for another client before I obliged. Now the current version of G Suite is much easier to set up than before.
Why G Suite?
One word: simplicity. Simple enough to set-up and simple enough to use. You can
use your G Suite account with your website's domain at the same time that you use your gmail account,
keep using Outlook or your preferred E-mail client
IMAP or POP on your phone
have the set-up done in 20 minutes
All you need
is access to your web hosting's MX Record management ( in cPanel is called MX Entry)
access to your websites index file (usually called index.php or index.html)
That's it.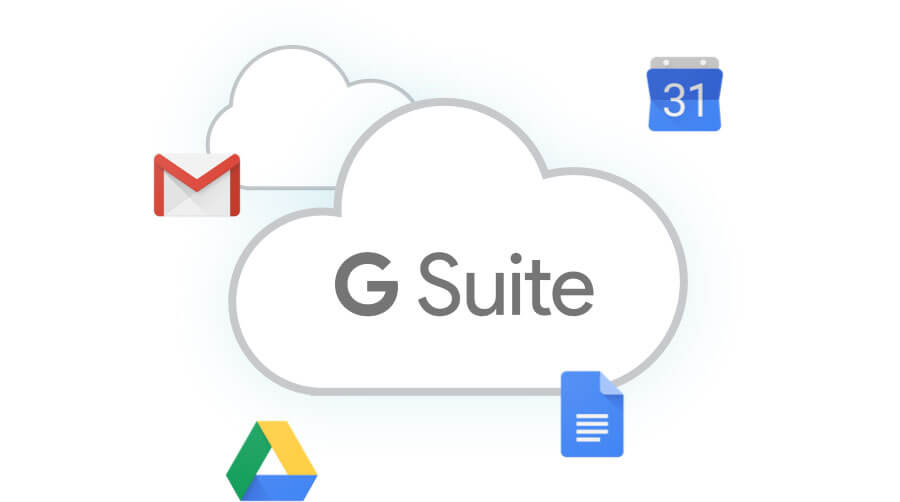 How much does G Suite cost?
While Gmail is free, for business email and collaboration, though, a G Suite account is not.
Basic Account
There are 2 options: $5 per user per month or $50 per user per year. That'll give you the full scope of Google apps you'd expect, with Gmail on your company's domain and 30GB of storage per user. It also includes 24/7 online and phone support, along with core sharing and management tools such as team shared calendars and mobile device management with remote wipe.
G Suite Business

$10 per user/month if you select G Suite Business.
G Suite Business provides additional features such as domain-wide mail and document search and 1 TB of storage per user with accounts that have four or fewer users. For accounts with over four users, all users have unlimited storage.
Storage space is not used by native G Suite files such as Google Docs, Sheets, Slides, Forms, and Sites. Storage is used by uploaded PDFs, images and videos. It's also used by email and email attachments.
Any G Suite user can be assigned an additional storage license by a G Suite administrator. Additional storage is available in increments of 100 GB, 1 TB, 2TB, 10 TB, 20 TB and 30 TB. The cost of an additional storage license ranges from $1.99 per month for 100 GB all the way up to $299 per month for 30 TB.
G Suite Enterprise

$25 per user per month.

If you are on a budget it will make you think twice before creating each new email address, as each one is a new user in the account.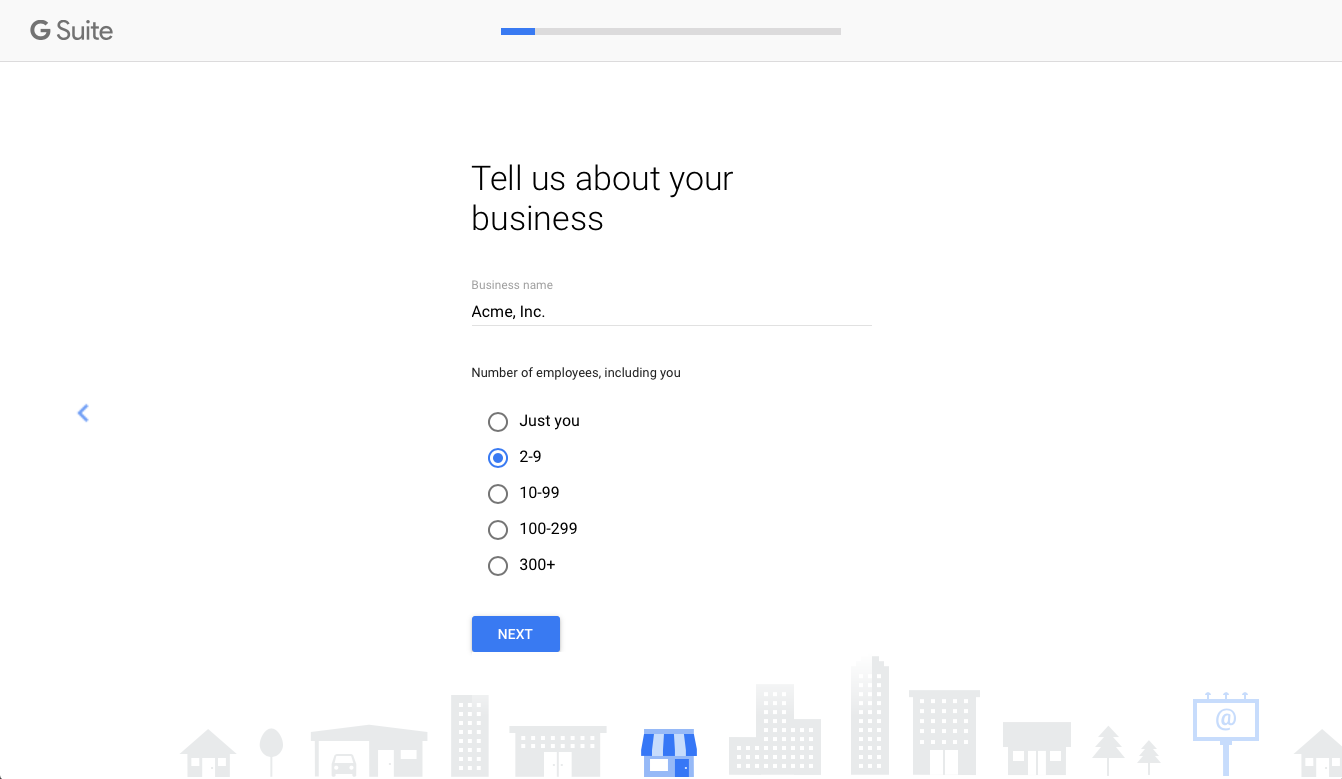 How to set-up G Suite on your website.
Go to https://gsuite.google.com/ and click on GET STARTED (button text may vary given your language settings)
Fill the options and click next. Amongs the questions Google will ask are:

Business Name
Number of employees
Location
Current E-Mail
If you have a domain currently - Select "Yes, I have one I can use"

Verify that you own the domain

The easiest option is to add Google Meta Tag
<HTML>
<HEAD>
<TITLE>Your Title</TITLE>
<meta name="google-site-verification" content="String_we_ask_for">
</HEAD>
<BODY>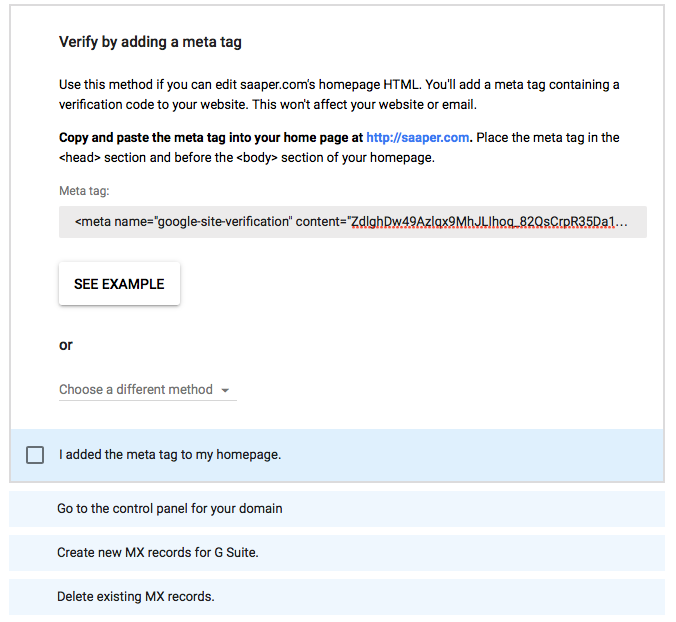 MX Records in Cpanel
Change your MX entries. - Essentially in your webhost, change the MX entries for your site.

For that, go to your domain name registrar, hosting account, or server settings, and find your domain name settings. In Digital Ocean, for example, you'll find the DNS settings under the Networking options. With many shared or VPS hosts, you'll use cPanel to manage your site—and it has a dedicated DNS settings page.

Manage your G Suite Account
That's it, in a nutshell.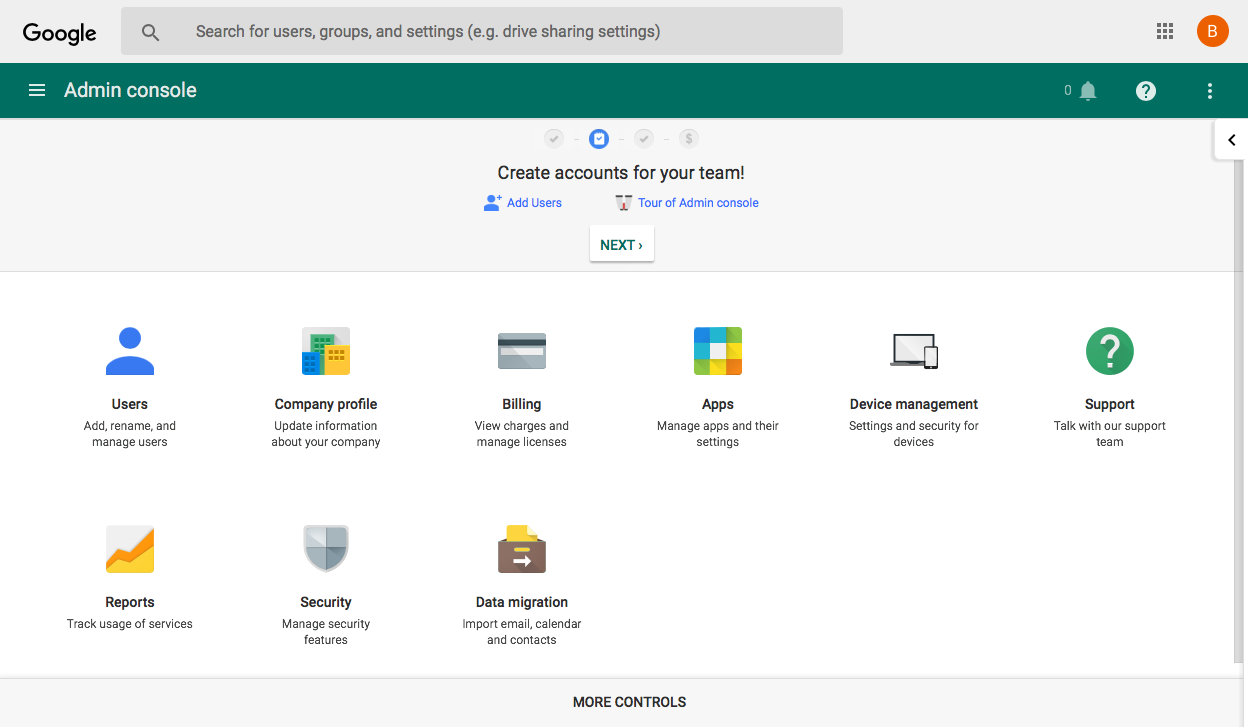 Managing your G Suite Account
The G Suite Admin Panel has many functions available. You can manage your user and organizational settings with ease through the main console after logging in.

Users
The Users tool allows you to add, rename, and manage users and user permissions across your organization. The following details can be edited for each user by clicking through to the user's individual page.
Remember that each user has a monthly cost of $5. $10 per month if you selected G Suite Business.

Company Profile
This section allows you to update information about your organization, including your company's logo.
Finally
G Suite by Google is a great tool to streamline your e-mail usage. It allows you to use the familiar and robust GMail platform for your company, including shared Google Calendar, Google Docs and Drive.
If you need help setting up G Suite for your organization or business call us at 787-313-6606. Unlimited Studios has years of experience with G Suite and Google Apps and we will be able to help you with your business needs.